Shades of Comfort
At Shades of Comfort We're Experts in Bespoke Hotel Awnings
We understand that every hotel is unique, which is why we offer a range of styles, fabrics, and colours to choose from, so you can find the perfect awning to complement your hotel's aesthetic. Our awnings are also built to last, with durable materials and expert craftsmanship that ensures they can withstand weathering and daily use.


We tailor each awning to your needs and can provide the perfect solution for whatever your business needs. For other hospitality sector outdoor solutions such as bars and restaurants, see our restaurant awnings page or awnings for hospitality page for more information. Overhead shelter such as awnings or canopies can be a great cost-efficient way to elevate your premises from the pavement. They can reduce the need for air conditioning therefore allowing you to achieve a greener reputation - a great way to market your business from the street.




OUR HOSPITALITY RANGE OF AWNINGS AND CANOPIES INCLUDE:
• Box
• Cassetted
• Drop Arm or Dutch Awnings or Canopies (as they're commonly referred to as)
We pride ourselves on our ability to provide the finest craftsmanship and outstanding design solutions for awnings of all sizes.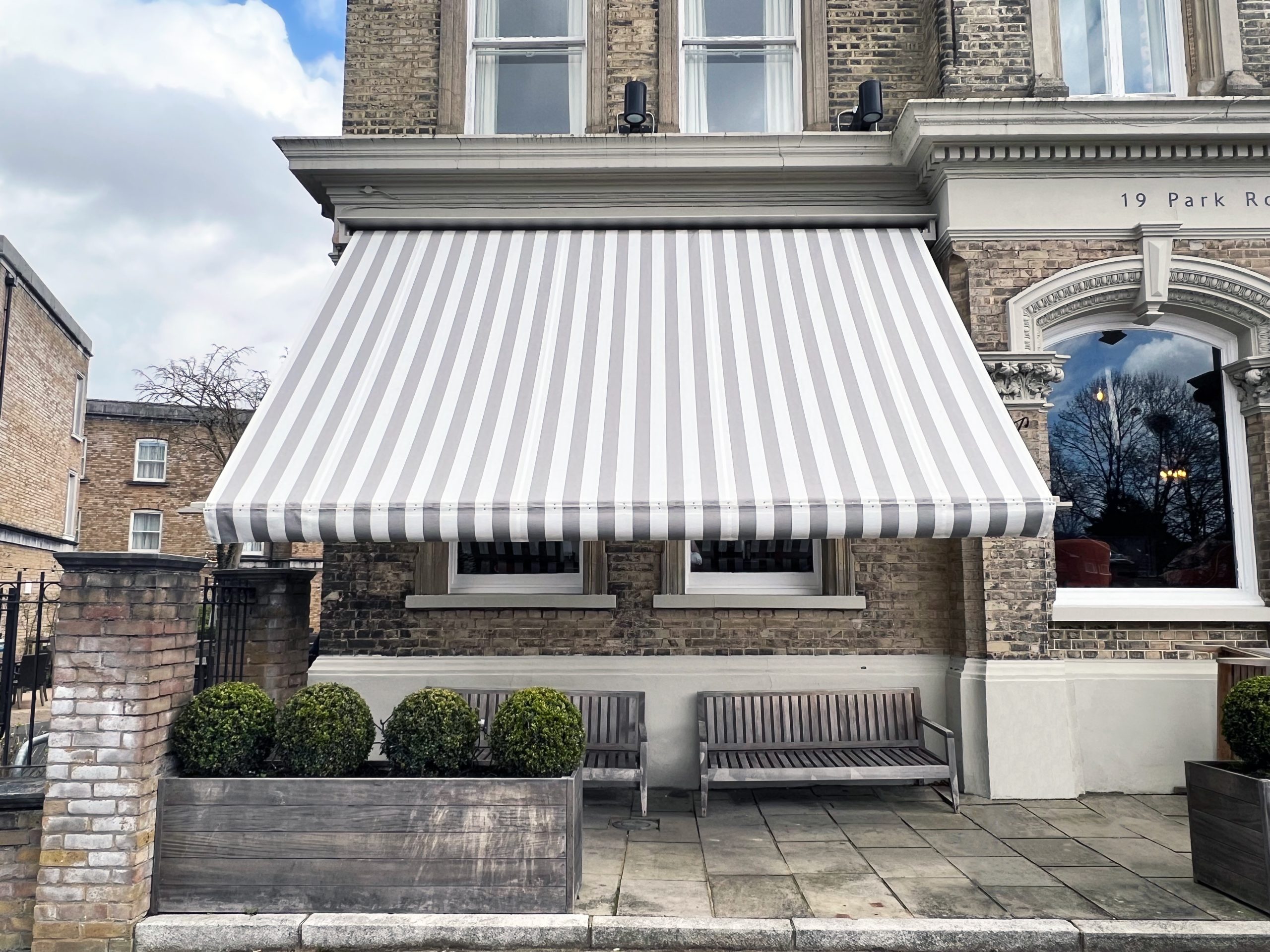 Awnings are a great solution for hotels as they're cost-effective, require simple installation, and aren't a hassle to maintain. The awnings can be overprinted with your branding and the colours chosen to match your corporate colours.

Our collection of awnings covers over 40 frame colours and hundreds of fabric combinations to choose from. Whatever the specification for your hotel, we'll find the best awning solution for you.
Dutch Awnings
Dutch Awnings are so called, because they first became popular in Holland. All of Shades of Comfort Dutch Awnings or Dutch Canopies are made to measure and manufactured to your requirements. They are ideal for where a heavier awning is not practical or where you are looking to achieve a traditional look and feel. A Dutch Awning can be fixed or retractable. Where they are retractable, they can come either with a pull cord, crank or a remote controlled electric motor.
Twin Fixed Awnings
Twin Fixed Awnings are a free-standing support structure that allows you to fit awnings on both sides to shade especially large open spaces. With this product, no walls are required to attach the awnings, and the awnings themselves can be opened individually as and when needed. Removable stone bases give the structure its sturdiness and flexibility; or the structure can be ground mounted. These awnings are particularly popular with the hospitality side to retail.
Drop Arm Awnings
Drop Arm Awnings are a very traditional canopy which are totally bespoke to suit any building. Not only do we supply & install new drop arm awnings, but we can also supply recovers for the canopies too. The Drop Arm Awning projection can be adjusted to any angle so that it provides a visually appealing look as well as shading.
Cassette Awnings
Cassette Awnings are an enclosed awning where the roller, fabric cover and arms are completely protected and stored in a closed cassette when retracted. Fully cassetted awnings are a popular choice for the protection they provide, prolonging the life and the look of all the elements. Cassette Awnings can be manual or motorised to suit any building type.
Box Awnings
Box Awnings are folding awnings that close into a protective pre-made case or box. When the awning is closed, the cassette box protects the cover and the mechanical parts against the elements. These are particularly popular with our retail customers.
How to look after your awnings
Why choose Shades of Comfort for your bespoke hotel awning?
We're experts in awnings, but we also design and manufacture a wide range of commercial outdoor solutions. We work with some of the leading hotel and hospitality chains as well as everything from theme parks, hospitals and the retail sector.
Our team works with a range of manufacturers, offering both electric and manual awnings, allowing you to pick the best awning that fit your requirements.
We want to be your first choice when it comes to awnings, and we promise to do everything we can to exceed your expectations. We pride ourselves on suppling a high quality product and an excellent aftercare service, so you can enjoy care-free for years to come.
You can choose a colour that matches your personality.
Our fabrics are designed to provide you with the ultimate protection against the sun's harmful rays, as well as self-cleaning technology.
We have a variety of lighting and heating options to complement your awning.
We are proud to have held ISO 9001 accreditation for years. This means you can rest assured that we have quality control systems in place.
Our installers are friendly, experienced professionals. They will minimise any mess and disruption, and they'll show you how to operate the product.
We offer a comprehensive, hassle-free service that includes supply and installation.
4 Key details to consider when picking your hotel awning
DESIGN AND LOOK
Hotel architecture and design is an important element for how you're perceived from the outside
Your choice of awning will contribute to the building's branding, feel and personality
We work with skilled designers and a range of manufacturers to bring your image to reality
ENTRANCES AND THE OUTDOORS
The entrance of a hotel is the first impression to any visitor, it's important to create an experience to be remembered from the moment they walk in
Our extensive range of awnings (or canopies as you may be familiar with) are suitable for entrances, terraces, and gardens
Adding an awning to your outside space can provide protection from the sun, as well as shelter from rain
EXPERTISE AND EXPERIENCE
We understand that every project is unique, so there's no one size fits all blueprint
Working with some of the biggest names in the industry, our experience in the hospitality sector means we are experts in advising you on the best solution for your hotel
Upon installation, our expert installers will show you exactly how to use your awning
CUSTOM REQUIREMENTS & BESPOKE MANUFACTURING
At Shades of Comfort we pride ourselves on being able to exceed your expactations no matter what your requirements, from awnings, retractable roof systems, cafe barriers, terrace screens or more, we've got you covered
Supplying over 40 colours of frames and endless fabrics, we can provide you with an awning that compliments your premises perfectly
Whether you need your branding printed visibly or your company colours displayed, we can adhere to your request
Contact us today to arrange a visit from one of our awning experts and your no obligation quotation or give us a call on 01452 307999
Shades of Comfort
View our case studies