Shades of Comfort
Be the envy of your neighbours. Create a relaxing space come rain or shine, day or night
If ever there was time that we have come to really value our homes outside space, then this is it. The challenge of course with the UK is that the weather can all too often, make this space un-usable, whether that be from those all too infrequent days when it is too hot, to the far more common days when we have to retreat indoors because it is raining.
Our range of shading options for your home include: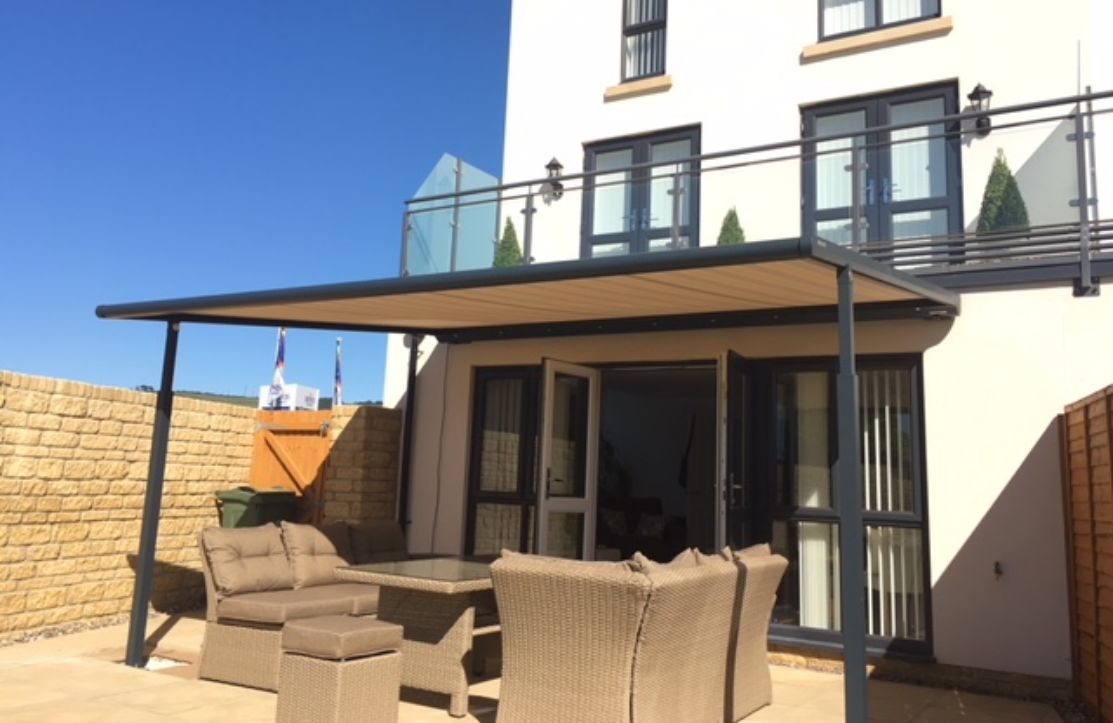 Here at Shades of Comfort we have the answer, with our extensive range of domestic awnings, retractable roof systems and parasols.
Whether you are dining alfresco, entertaining friends or simply spending quality time with your family in the fresh air, our products will allow you more time to be spent outdoors during the day and night.
Wouldn't you like to be able to enjoy your outside space for much more of the year?
Why choose Shades of Comfort for your awning, parasol or roof system?
We specialise in this kind of work and are used by many leading hotel, pub and coffee shop chains as well as everything from theme parks, hospitals, stately homes, leisure chains, shopping centres and even zoos.
We are not tied to any one manufacturer, so you can be assured that the product we recommend is the best one for your needs. Our range includes electric and manual awnings.
Shades of Comfort's ethos is to be a quality company providing quality products. Guarantees on products we install are some of the best in the marketplace, and our aftercare servicing to meet your needs ensures your awning will give you many years of trouble-free use.
You can create your own look with a wide range of colour options.
Our fabrics offer the highest level of UV protection as well as the latest self-cleaning technology.
We have a range of lighting and heating options to extend your use even further.
Shades of Comfort have held ISO 9001 and 14001 qualifications for several years now giving you added re-assurance about our quality control and the environmental management system we have in place.
We offer an all encompassing hassle free, supply and install service.
Shades of Comfort
What our customers say
Read about what some of our customers say about working with Shades of Comfort
---
We have been working together With Shades of Comfort for around 7rs now. I have always found Shades to be very helpfully with both enquiries, orders and any technical information I have needed. Delivery and repairs have always been carried out on time. All around a great company to use.
DK, Group Property Development Director, Scoffs Group
Needed an urgent order with a quick turnaround and once again Shades of Comfort met the brief. Customer Service is always very efficient and friendly and Andrew Powell always goes the extra mile to meet the customer's expectations. Quality of all the products has always been good and delivery happens on time and as promised
EM, Costa Franchisee
We have now been in partnership with shades of comfort for around 4 years on all sorts of installations hereon resort. I must say that from conception of an idea through to actual installation have found their service top class. Nothing is ever too much trouble and the after sales service is also the best. As we head into 2021 we have already placed further orders for their products that help us enhance our dwell areas outside our catering and bar outlets as well as sun shades over our ice cream parlours.
TD, Bourne Leisure