Shades of Comfort
Site surveys, Design, Installation, Maintenance and After Care of Awnings, Retractable roofs, Giant Umbrellas and other Outdoor Solutions
Our customers usually come to us in the first instance because of the products that we provide. But time and again it is the quality of the service that we provide that features most strongly in the feedback we get from our customers. Listed here are the services that we can provide:
Site Surveys
Shades of Comfort awnings are bespoke products that are made to fit your exact specifications. We can make brackets in order to produce fixings points for your awning if we discover you haven't got sufficient leverage for the awning to fix to. These are usually in the form of gutter brackets or spreader plates. Our installation is full and complete for awnings; the only part we do not undertake is the electrics for any motorised awnings, as this work is best carried out by a qualified electrician.

With our giant umbrellas, we offer two different types; ground mounts and weighted bases. You will need to commission any ground works required, as this is a different specification to the work we require from our fitters.
Design
Our engineers are trained and highly experienced with all our products and can carry out any site surveys you may need, for products that we are going to install. For supply only products we will give you all the measurements for you to ensure that the products you have chosen will fit your outdoor area.
Installation
We can provide proofs of what your logo or graphics will look like on certain products where you are having them over-printed; giant umbrellas, awnings, and café banner screens. This is for you to sign off before we go ahead with the production of your product and provides re-assurance that you will be happy with the finished item.
Planning Permission Information
Planning permission is required when making any alterations that are permanent to the ground or building. Therefore awnings, giant umbrellas, retractable roofs, robust terrace awnings, and tensile umbrellas are all subject to planning permission. You will need to submit your own planning application, but we will provide any information you might need on our products to support the application.

A good indication of whether you will get planning permission for an awning is to look at other businesses on the street to see if they have any awnings or canopies.

It is even easier to gain planning permission for a ground mounted giant umbrella as the umbrella can still be lifted out and the sleeve recovered with a plate after installation.
Why not contact us today with details of the service requirements that you have or you can speak to one of the team by giving us a call on 01452 307999
Maintenance
When a giant umbrella or an awning is damaged whether it is due to vandalism, mis-use or weather conditions, Shades of Comfort can provide a survey and repair service. Prices will need to be provided on application, as the cost of the repair will depend on the parts that need to be ordered and the labour needed to fix the issue. Where possible we will give you a quotation before we go ahead with the repair works. We will also quote to replace the product if we believe the price of the repair exceeds the cost of a new product.

Our Engineers and Operations Manager have years of experience with the products we provide. Even if you did not purchase your product from us in the first place, we will know what brand and model it is, and have contacts within the industry to buy the parts needed. We can even make components for some parts ourselves!
Recovers
Shades of Comfort will provide you with a guide on how to look after your product whenever it is applicable. If you look after your product well and do not mis-use it, it will have a longer life with fewer repair works. Or alternatively if you prefer we can quote for carrying out this maintenance work on your behalf.

If you have any questions regarding the care of your product, please ring the office on 01452 307999 for more information.
Repair Work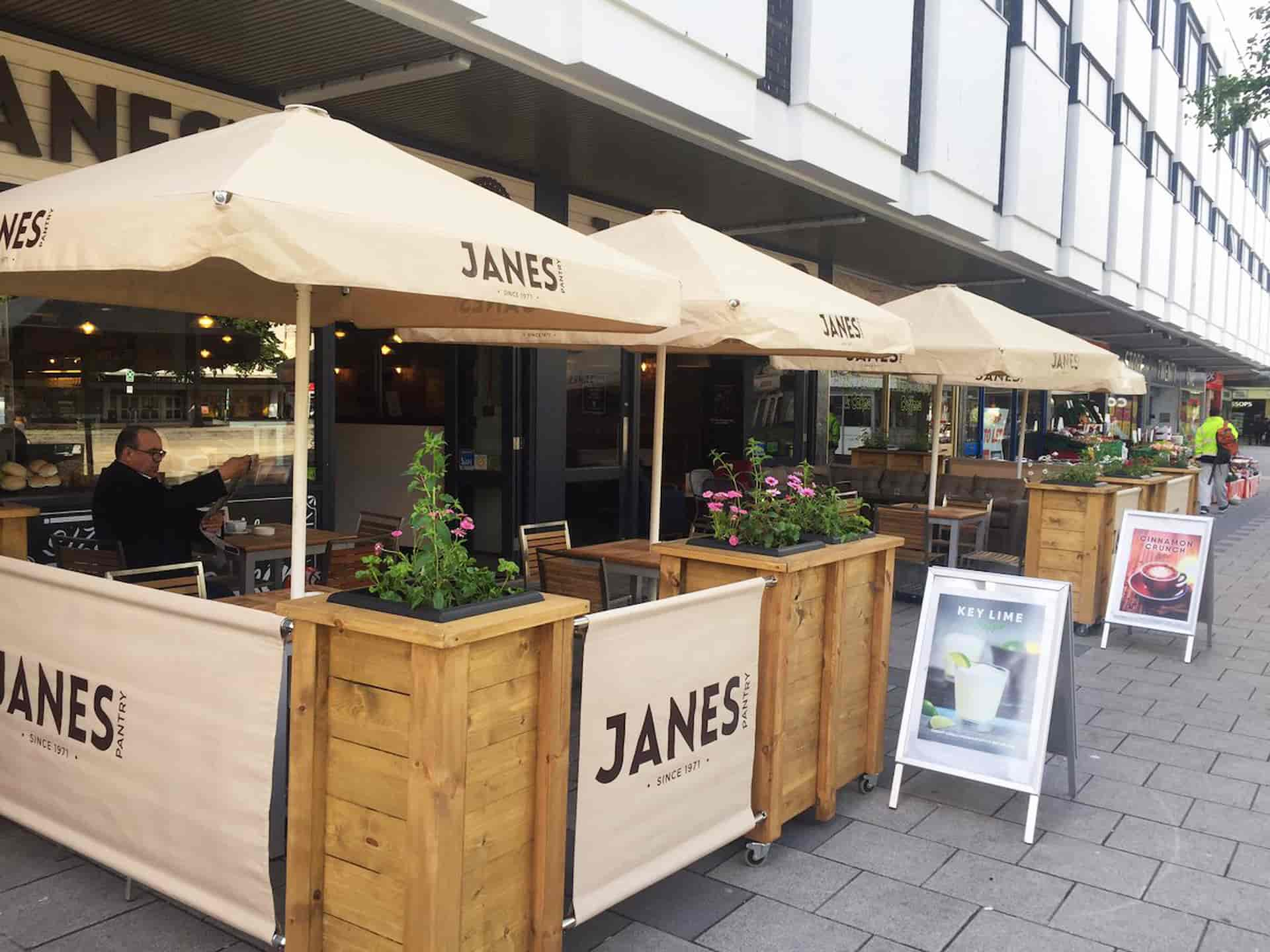 Giant umbrella and awning mechanics can last a long time with careful use, but the membranes can sometimes be damaged or get dirty quicker due to the atmosphere. We provide a recovering service for any umbrella or awning you may have, regardless of whether it was purchased from Shades of Comfort or not.
Cleaning
Whilst we ask customers to clean their giant umbrella or awning with a damp cloth, and to ensure that leaves and other objects are removed, it is likely that the fabric will start to look dirty over time. We offer a professional cleaning service to bring a fresh look to your products and prolong their lives. You can choose from on site cleaning with a combination of steam cleaning and a chemical wash whilst the membranes are still intact, ensuring that you have pretty much un-interrupted use of your product. Or you can opt for off site cleaning where we remove everything for you and send them away to be put through commercial washing machines.