Shades of Comfort
Experience the joys of outdoor living, all year round
If ever there was time that we have come to really value our homes outside space, then this is it. The challenge of course with the UK is that the weather can all too often, make this space un-usable, whether that be from those all too infrequent days when it is too hot, to the far more common days when we have to retreat indoors because it is raining. Here at Shades of Comfort we have the answer, with our extensive range of awnings for your home.
Whether you are dining alfresco, entertaining friends or simply spending quality time with your family in the fresh air, our products will allow you more time to be spent outdoors during the day and night.

Wouldn't you like to be able to enjoy your outside space for much more of the year?
Cassette Awnings
Cassette Awnings are an enclosed awning where the roller, fabric cover and arms are completely protected and stored in a closed cassette when retracted. Fully cassetted awnings are a popular choice for the protection they provide, prolonging the life and the look of all the elements. Cassette Awnings can be manual or motorised to suit any building type.
Dutch Awnings
Dutch Awnings are so called, because they first became popular in Holland. All of Shades of Comfort Dutch Awnings or Dutch Canopies are made to measure and manufactured to your requirements. They are ideal for where a heavier awning is not practical or where you are looking to achieve a traditional look and feel. A Dutch Awning can be fixed or retractable. Where they are retractable, they can come either with a pull cord, crank or a remote controlled electric motor.
How to look after your awnings
Why choose Shades of Comfort for your awning?
We specialise in this kind of work and are used by many leading hotel, pub and coffee shop chains as well as everything from theme parks, hospitals, stately homes, leisure chains, shopping centres and even zoos.
We are not tied to any one manufacturer, so you can be assured that the product we recommend is the best one for your needs. Our range includes electric and manual awnings.
Shades of Comfort's ethos is to be a quality company providing quality products. Guarantees on products we install are some of the best in the marketplace, and our aftercare servicing to meet your needs ensures your awning will give you many years of trouble-free use.
You can create your own look with a wide range of colour options.
Our awning fabrics offer the highest level of UV protection as well as the latest self-cleaning technology.
We have a range of lighting and heating options to accompany your awning extend your use even further.
Shades of Comfort have held ISO 9001 and 14001 qualifications for several years now giving you added re-assurance about our quality control and the environmental management system we have in place.
Our highly experienced installers will minimise any mess and disruption and will demonstrate to you, how to operate the product.
We offer an all encompassing hassle free, supply and install service.
What are the benefits of a Shades of Comfort awning?
UV protection and more comfortable use of your outside space in the summer. Provides a sheltered outside space when it is raining.
Helps keep the inside of your property cooler as it prevents sun from shining directly on windows or patio doors.
Extends the amount of the year in which you can enjoy your outside space. They are low maintenance, easy to keep clean and easy to use.
Awnings can also help protect your external furniture and your internal furniture and carpets from bleaching.
Most of our awning models are bespoke and made to measure sizes which ensures you are guaranteed the perfect fit for your outside space. They offer you privacy from overlooking neighbours.
If used in a windy area, our awnings can be fitted with a motion sensor which will retract the awning if the winds get too strong for the awning to be out (only available on motorised awnings, not manual)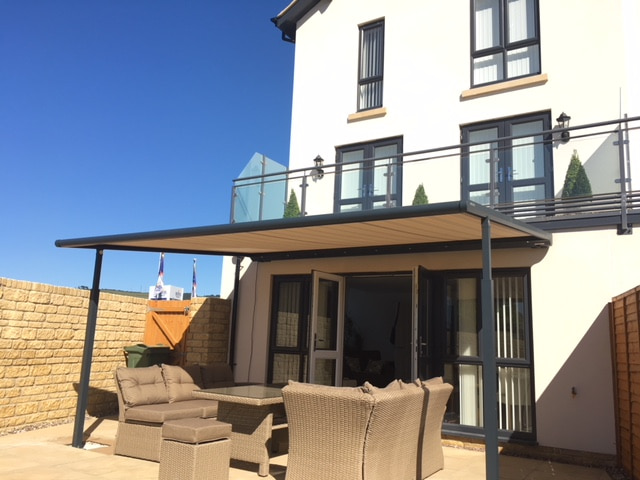 Contact us today to arrange a visit from one of our awning experts and your no obligation quotation or give us a call on 01452 307999
Shades of Comfort
View our case studies